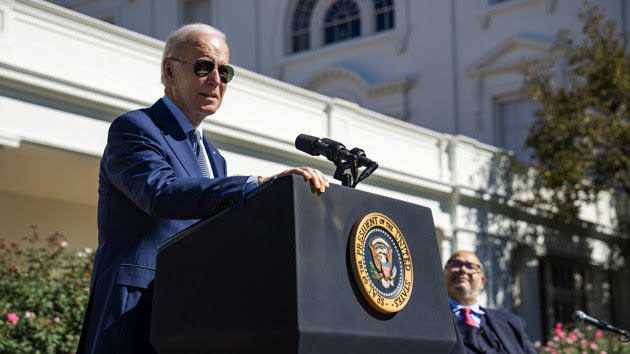 (WASHINGTON) -- As what U.S. officials call a massive surveillance balloon believed to be from China continued to fly over the continental United States, President Joe Biden faced growing pressure Friday to address the situation as Republicans said he needed to take stronger action against Beijing.
In his first chance to comment Friday, after touting the January jobs report, he instead told reporters he wouldn't answer questions on anything but the economy.
While Biden has, so far, decided against ordering military action, a U.S. official said late Thursday that the U.S. was closely monitoring the situation and "keeping all options open."
Montana GOP Rep. Ryan Zinke, who served as interior secretary under former President Donald Trump, is among a chorus of Republicans calling for the balloon to be shot down, with Rep. Marjorie Taylor Greene, R-Ga., saying Trump would have done so already. But government officials have said they are concerned doing so would pose a risk to civilians below.
Still, Florida Republican Sen. Marco Rubio, vice chair of the Senate Intelligence Committee, tweeted Friday, "It was a mistake to not shoot down that Chinese spy balloon when it was over a sparsely populated area. This is not some hot air balloon, it has a large payload of sensors roughly the size of two city buses & the ability to maneuver independently."
Arkansas GOP Sen. Tom Cotton tweeted for Biden to "stop coddling and appeasing the Chinese communists." He also asked whether the ballon was detected over Alaskan airspace as questions swirl.
Utah Republican Sen. Mitt Romney added a warning against Tik Tok, too: "A big Chinese balloon in the sky and millions of Chinese TikTok balloons on our phones. Let's shut them all down."
House Speaker Kevin McCarthy, meanwhile, has called for the congressional "Gang of Eight" top members to be briefed. Such a meeting would bring together the top House and Senate leaders and the heads of the intelligence committees in each chamber.
"China's brazen disregard for U.S. sovereignty is a destabilizing action that must be addressed, and President Biden cannot be silent," McCarthy tweeted.
The criticism comes as newly-empowered House Republicans have formed a House Select Committee on China to investigate threats from the foreign power as the GOP argues the administration has not done enough on its own.
As officials weigh what to do next, Secretary of State Antony Blinken on Friday postponed his visit to Beijing, originally scheduled for next week, with an official noting that Blinken did not want to blow the situation out of proportion by canceling his visit but also did not want the balloon to dominate his meetings with Chinese officials.
A senior U.S. official said talks with Beijing would continue across multiple levels of government and that Blinken had been in touch with his Chinese counterpart this morning.
"We are committed to maintaining open lines with the PRC at all times, including during this incident," the official said. "We will maintain open lines of communication with the PRC to address our concerns about this ongoing incident and to responsibly manage the competition between our countries."
The Chinese Foreign Ministry said earlier Friday that the balloon is civilian in nature and used for scientific research, "mainly meteorological."
"The airship is from China," the foreign ministry said. "Affected by the Westerlies and with limited self-steering capability, the airship deviated far from its planned course. The Chinese side regrets the unintended entry of the airship into US airspace due to force majeure."
"Force majeure" refers to something that is done beyond the control of the government.
ABC News' Luis Martinez, Shannon Crawford, Gabe Ferris and Karson Yiu contributed to this report.
Copyright © 2023, ABC Audio. All rights reserved.